The Experience of a Lifetime
YMCA Camp Sea Gull for boys and YMCA Camp Seafarer for girls are kindred, overnight camps located on the coast of North Carolina. Both camps have more than 700 acres of waterfront access at the widest part of North Carolina's Neuse River. While each Camp has separate grounds and activities, they share a history and spend time together during the summer.
We are nationally recognized as a premier overnight camp for sailing, powerboating and water sports. The two-mile wide stretch of the Neuse River offers calm, bay-like waters for our campers to learn how to sail, operate a powerboat and master water skiing.
Activities
Along with sailing and powerboating, we have a wide variety of land and water activities including swimming, fishing, creative arts, archery, golf, riflery, canoeing, paddleboarding, kayaking and high ropes courses. Campers earn ranks by developing skills in activities.
Programs
We host campers all summer in two- and four-week sessions. Our youngest campers are invited to Starter Camp, a one-week session at the beginning of every summer.
In the fall and spring, we offer family programs including Mother/Daughter and Father/Son weekends, plus weeklong sessions for the whole family.
The Power of Camp
Measuring the power of sleepaway camp would be akin to measuring the pride from achievement or the confidence earned from independence. We find that when children leave their technology at home, pursue friendships in person and make their own guided decisions about their days and activities, something important starts to happen.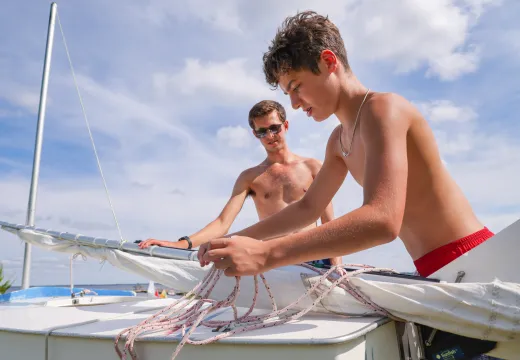 Build
Campers build their self-confidence by participating in hands-on activities taught by knowledgeable counselors and peers. Whether it's learning to tie a clove hitch or taking the Sunfish out on their own.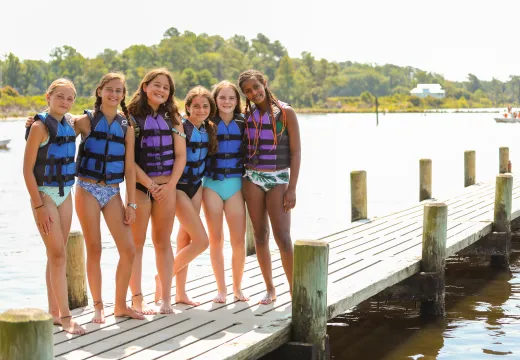 Grow
They grow by living in a cabin with others. making new friends from all walks of life and different parts of the country.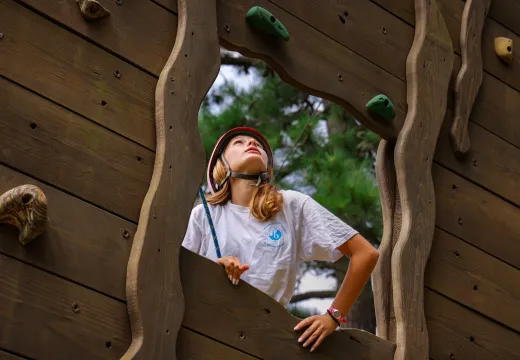 Character
Campers learn more than skills and master more than ranks. They learn who they are as people and that their character matters. 
Both Camp Sea Gull and Camp Seafarer are branches of the YMCA of the Triangle. The YMCA's Mission is to put Christian principles into practice through programs that build healthy spirit, mind and body for all. 
Camp is an inclusive and welcoming plan dedicated to serving families and campers from diverse cultures, races, backgrounds, faiths, gender identities and perspectives from across the country and around the world. 
Celebrating 75 Years
2023 marks the 75th anniversary of Camp Sea Gull and we're celebrating with an Anniversary Weekend, Oct. 6 - 8 and encouraging 75 new planned gifts to Camp Sea Gull's endowment.