All campers are encouraged to challenge themselves at Camp by earning ranks in activities such as sailing, boating, water skiing, archery, arts and crafts and more. 
Campers enrolled for two or four weeks are introduced to our Blue and Green Books on the first day of each session. These books contain the ranks and descriptions of achievements. 
Blue Book
Our blue book contains all the ranks and achievements for our Sea program. Powerboating includes skiing, fishing and boat-handling. Sailing includes learn-to-sail, racing and cruising. As a part of our ranks, dedicated campers can earn US Sailing and US Powerboating Certifications during a few summers of 4-week sessions.
Green Book
Our Green Book contains all the ranks and achievements for our Land activities. Campers can earn ranks in sports, environmental discovery, paddle sports and more.
Program Design
Our three tenants for programs and ranks.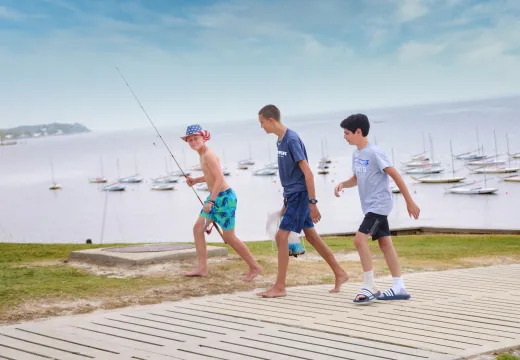 Freedom of Choice
Freedom of choice means campers pick their activities each day. No need to sign up ahead of time, campers can self-select their activities and then choose the ranks they want to earn in those activities.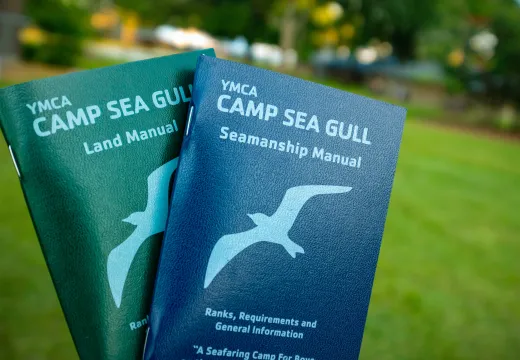 Ranks
Rank books, aka the Blue and Green Books, guide campers and help them decide what they want to do at Camp. Each rank has clear sets of skills and instructions. Using ranks helps campers set goals for the day or the summer.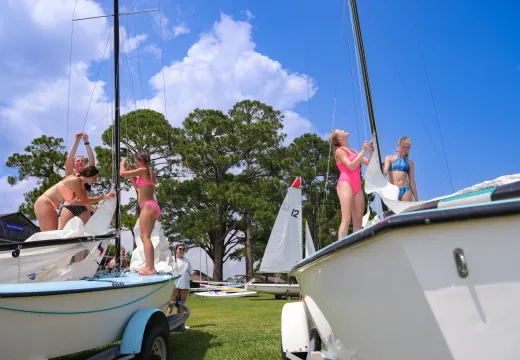 Counselor Coaching
Our staff is specifically trained in activity areas. They encourage campers to develop skills and set goals to earn ranks in activities. During cabin times, counselors discuss goals, helping to keep campers on track. 
Activities
Along with sailing and powerboating, we have a wide variety of land and water activities including swimming, fishing, creative arts, archery, golf, riflery, canoeing, paddleboarding, kayaking and high ropes courses. Campers earn ranks by developing skills in activities.