The Camp Sea Gull and  Camp Seafarer Hall of Fame recognizes men and women of the extended Camp community whose dedication and service to Camp has been extraordinary.
They are people of outstanding character who have made substantial and sustained contributions over time and have served as role models for the Camp community. Each member of the Hall of Fame has been selected because they left an enduring and meaningful legacy in the lives of those who have been touched by their exceptional service.
Hall of Fame Nominations
The 2023 Hall of Fame inductees will be honored during our 75th Anniversary celebration. We accept new applicants every year. 2024 nominations will open in early 2024.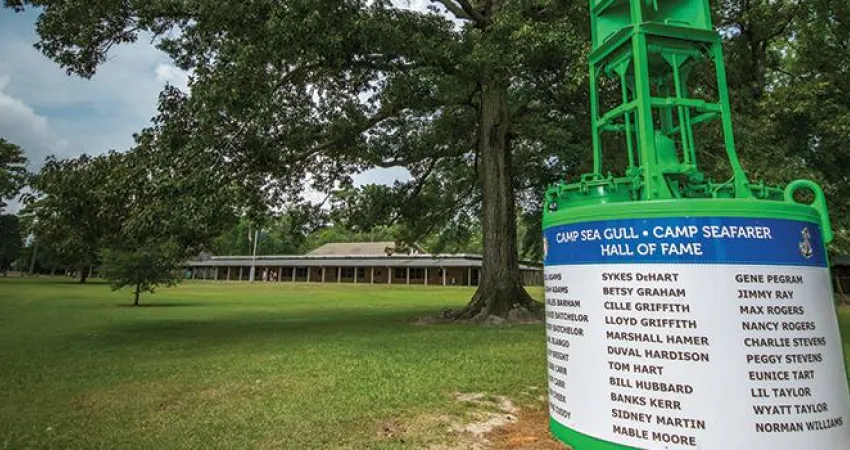 Hall of Fame Members
A - F
Bill Adams, Sarah Adams, Charles Barham, Burnie Batchelor, Jerry Batchelor, Earl Blango, Anne Bradford, Bill Bradford, Judy Bright, Judge Carr, Muff Carr, Don Cheek, Bill Climer, Anne Cuddy, Sykes DeHart, Jim Epps
G - L
Betsy Graham, Cille Griffith, Lloyd Griffith, Marshall Hamer, Duval Hardison, Tom Hart, Bill Hubbard, Banks Kerr, Lisa Longino
M - R
Sidney Martin, Nelson McDaniel, Mable Moore, Pete Morasca, Gene Pengram, James Poyner, Raleigh Board of Directors, 1944 - 1948, Jimmy Ray, Max Rogers, Nancy Rogers, John Rusher, Mary Nash Rusher
S - Z
Charlie Stevens, Peggy Stevens, Eunice Tart, Lil Taylor, Wyatt Taylor, Norman Williams